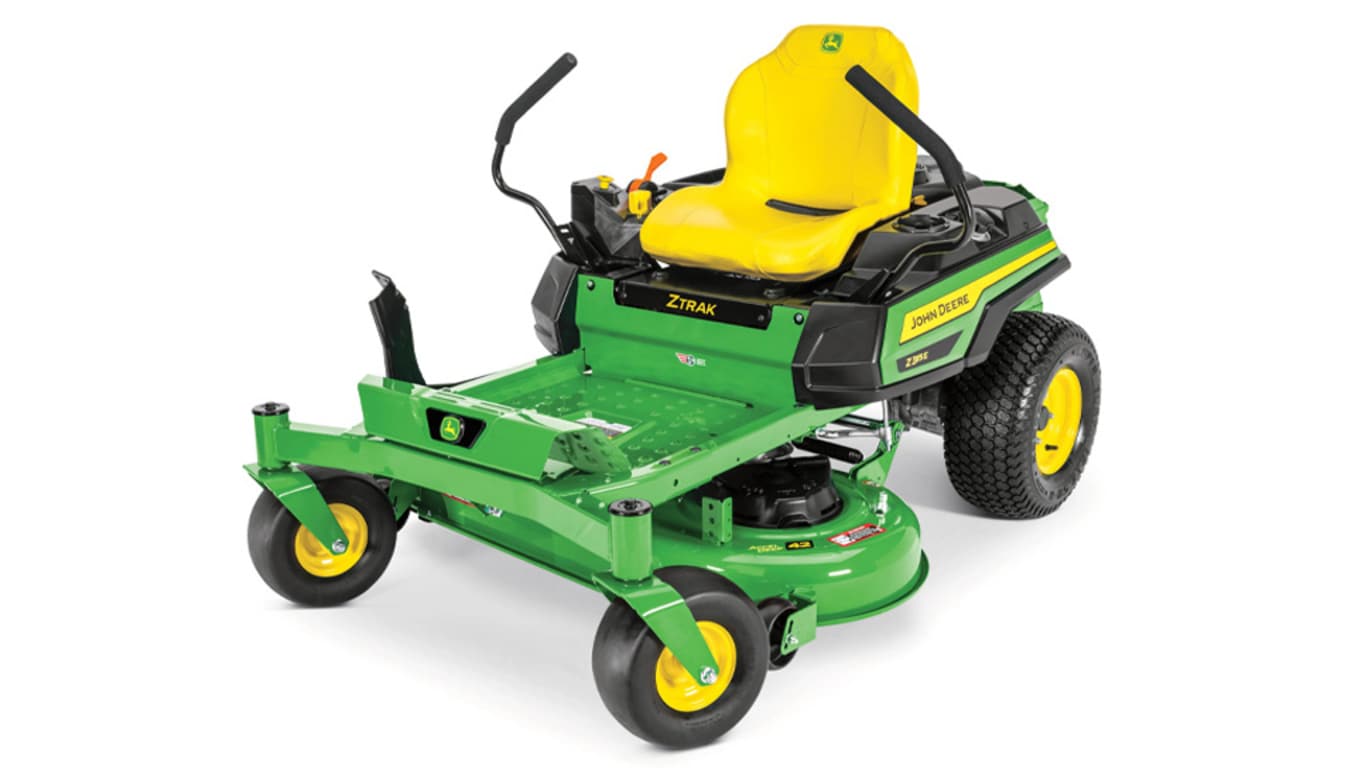 Features
Smooth and powerful V-twin engine
A 20-hp (14.9-kW) V-twin engine provides plenty of power and torque to handle tough mulching, mowing, and bagging conditions:
V-twin cylinder design for greater torque, lower vibration, and improved sound quality
Full-pressure lubrication and cast-iron sleeves to extend engine life
Engine model 40EXi
Rear engine guard to protects the engine from damage
Simplify maintenance with oil-drain tube and easy-to-access air, fuel, and oil filters. Oil drain tube can be opened without tools and used to direct the used oil into a catch pan.
Get an even cut with the 42-in. (107-cm) Accel Deep™ (42A) Mower Deck
The 42-in. (107-cm) Accel Deep Mower Deck is a stamped-steel, deep, flat-top design that delivers excellent cut quality, productivity, cleanliness, durability, and versatility. Optimal performance and dispersion of clippings is provided, even at faster mowing speeds or in tall grass:
4.97-in. (12.6-cm) deep throughout the entire deck shell for optimum mowing, mulching, and bagging performance

Optional MulchControl™ system provides superior mulching performance and versatility

Stamped-steel design eliminates sharp edges and corners where material can build up and diminish mowing performance
Mower deck suspended from the vehicle for a smooth and level cut

Adjustable mower wheels, positioned just above ground level, help reduce scalping

0.25-in. (6.4-mm) cut-height increments allow the mower to be set at the desired cut height
Compatible with efficient 6.5-bu (230-L) two-bag cut-and-throw material collection system
Excellent cut quality
Deep mower-deck stamping gives excellent cut quality. It allows the cut and suspended material room to exit the deck without getting recut:
Reducing the amount of recutting enables more power to be used to cut incoming grass, which greatly improves mower capacity.

Helps maintain excellent cut quality at faster mowing speeds

Clean flow of material out of discharge area prevents cut material from interfering with cutting the incoming grass, making it possible for the blades to cut incoming material cleanly.
Even in mulching mode, cut evenness is improved compared to other designs because the additional depth allows for continuous circulation, optimal recutting, and an even distribution of clippings.
Productivity - gets the job done fast
Deep mower-deck stamping gives high productivity, which gets the job done fast. It allows the cut and suspended material room to exit the deck quickly, reducing the amount of recutting so more power is available to process incoming grass:
Greatly improves the mower's capacity to maintain excellent mowing performance in difficult mowing conditions and at higher speeds
Large discharge opening is both high and wide to handle more material:
Gives a smooth, even discharge of clippings at all mowing speeds
Reduces the chance of plugging, especially important when operating in wet, thick, or dense grass and when bagging
Cut-and-throw chute has a large, optimized inlet which aids in collecting material by using airflow from the large deck opening
Cleanliness - for the mower and the operator
The flat-top shape of the deck stamping is optimal for keeping itself and the operator clean:
There are few places to catch and hold material on the top and underneath the deck.

Top of deck stays cleaner, reducing time and effort needed for cleaning and service
Underside of deck is self-cleaning to maintain optimum performance without build-up of material to interfere with the flow of air and clippings
Less need to clean and remove build-up of material from underside deck

The depth of the Accel Deep Mower Deck minimizes the amount of material that escapes from the front of the deck

Limited amount of material to drift onto the operator and mower deck
Even flow of material discharged out the chute, less recutting results in larger pieces that are less likely to end up on the operator
Mulching prevents the discharge of material completely and MulchControl makes mulching a practical solution for most mowing situations.
Cleaning a mower deck, both top and bottom, is one of the most frequent maintenance activities:
The flat-top design reduces places for material to build up and makes material that does collect easy to remove.
A wash port is provided to make cleaning the underside of the mower deck easy.
Hose connector is included with the mower deck.
Superior durability is designed in
The 42A Mower Deck has strong spindle pockets, to keep the blades aligned, even after years of tough service:
Ribs in the deck shell add strength where it is needed.
The 42A has a 16 percent heavier overall weight than the Edge™ Xtra 42-in. (107-cm) Mower Deck that it replaces.
Mower wheels are double captured:
Provides greater strength and durability for longer, trouble-free life.
Single-bolt adjustment makes setting wheels to the correct height for the cutting height quick and easy.
Low-tension belt-drive design reduces the side load on the engines lower bearing and mower deck bearings for longer life.

Rolled outer edge of the deck provides extra strength and protection.

Dual-stage E-coat and powder-paint coatings provide extra protection from rust.
Versatility - easy to change between side discharge, mulch, and bagging modes
The 42A Mower Deck is designed for maximum versatility, providing the greatest ease in changing from one mower discharge mode to another:
With the optional MulchControl system installed (along with the special mulching blades), changing from side discharge to mulching or vice versa is done with the simple flip of a lever.
The cut-and-throw rear bagger can be used with MulchControl installed by removing the rear MulchControl baffle (A) before installing the bagger chute. The baffle is held in place with two carriage bolts. To return to mulching, the chute needs to be removed and the baffle replaced.
MulchControl option
The MulchControl system for the 42A Mower Deck is an optional field-installed attachment and makes mulching practical for many mowing situations because it not only does an excellent job of mulching, but it also allows the mower to be easily converted for times when it is more desirable to side discharge or collect the lawn material. Advantages of mulching grass clippings include:
A beautiful looking lawn
Grass clippings not blown onto the operator, driveways, or flower beds
Less fertilizer use
Elimination of the effort needed to dispose of clippings
How MulchControl works
MulchControl is an innovative, simple design that is easy to use and maintain:
The MulchControl attachment includes baffles to control the flow of material under the deck.

When the MulchControl baffle is open, most of the material passes through the discharge opening.
When the MulchControl baffle is closed, the material stays within the deck and gets chopped into mulch and deposited in the turf.
The MulchControl handle is located on top of the mower deck and used to open and close the discharge baffle.

The operator is required to get off the machine in order to engage or disengage mulch mode.

Changing from mulching to side discharge or vice versa takes only a few seconds.
MulchControl is well-suited to the following mowing situations:
Usually mulch, but side discharge when grass gets too long
Usually side-discharge, but would like to be able to close the chute to control clippings
Always mulch a main lawn, but often side discharge secondary lawns
Bag clippings, but want to go farther before emptying bags
While in the side-discharge mode, MulchControl still mulches about one third of the material. Therefore, the side-discharge mode is essentially a partial-mulch mode. This can be an advantage when side discharging or bagging, as it helps to reduce the amount of material being discharged. Other times this could work as a disadvantage:
When cutting strong southern grasses, such as Zoysia and Bermuda
When cutting in wet, high-growth conditions, such as those found in the Pacific Northwest United States
When optimum bagging and lawn cleanup is desired
6.5-bu (230-L) rear bagger
An optional 6.5-bu (230-L) cut-and-throw rear bagger material collection system (MCS) is available for use with the 42-in. (107-cm) Accel Deep Mower. It provides an efficient means of collecting grass clippings and leaves.

The hopper design provides modern styling, great bagging performance, cleaner operation, and easy-to-empty bags:
6.5-bu (230-L) capacity
Easy-to-attach lower chute
Air exhaust duct
Convenient spring-latch
Airflow fill indicator
Quik-Tatch™ mounting
Sealed hopper top
Loose-knit bags available
Mower blades
High-lift bagging blades are included with the chute. They provide optimum performance when bagging in difficult conditions, such as when the grass is moist, dense, or long:
High-lift bagging blades also work well when side discharging material.
Mulching blades are included with the MulchControl attachment. They can be used for mulching, side discharging, and bagging in most conditions.

Mower blade use chart
| | |
| --- | --- |
| Mode(s) of operation | Mower blade |
| Side discharging mode only | Side-discharge blade (shipped with mower) |
| Bagging mode only | Bagging blade (shipped with rear bagger chute) |
| Mulching mode only | Mulching blade (shipped with MulchControl) |
| Side discharge and mulching | Mulching blade (shipped with MulchControl) |
| Side discharge and bagging | Bagging blade (shipped with rear bagger chute) |
| Side discharge, mulching, and bagging | Mulching blade (shipped with MulchControl) |
Comfortable ride delivered by operator station with adjustable controls and seat position
The operator station is designed for operator comfort and convenience when operating all controls:
Excellent visibility forward and to the trim side of the deck makes operation easy and comfortable for the operator.

Controls are color coded for easy identification.

Translucent fuel tank displays fuel level.

Twin-lever controls adjust, using cut-height pin/socket, for convenience and operator comfort.

A shock absorber dampens motion control lever movement to give smooth operation.
Comfortable seat
The E-Series mowers have a cut-and-sewn seat with:
18-in. (46-cm) of height
Thick foam to soften bumps
Side-bolstering to stabilize the operator on uneven terrain
Embroidered John Deere logo
Optional armrests
Seat suspension
Two steel coil suspension springs under the seat absorb shocks when traveling over rougher areas to provide a smoother ride. The seat fore-aft position can also be changed without tools.
Cup holder and storage compartments
The cup holder is designed to hold common cup sizes securely.
A storage compartment provides a place for the operator to keep safety equipment, a cell phone, etc.
Operator foot platform
Large foot platform helps the operator remain comfortable and secure:
Volcano grips give a secure grip.
Raised footrests at the front of the platform provide a comfortable area for the operator's feet.
An attractive floor mat is optional on E-Series models.
Convenient machine service includes 3-year or 200-hour bumper-to-bumper warranty
A convenient service interval decal provides basic maintenance information. It provides a quick reference for keeping recommended service up to date.
Quick response (QR) codes link to owner information web pages
John Deere riding lawn mowers are supported by owner information web pages that include links to:
Safety and how-to videos
Operator's manuals
Parts catalog
Maintenance reminder sheets
Attachments
Warranty statements
To speed access to owner information web pages, a QR code is printed onto a PIN label located under the seat on the battery cover. Since each vehicle model has its own web page, the links are specific to the owner's model. The QR code also includes the vehicle's unique PIN which allows for additional customization of the owner information web page in the future.
Mower deck access
The footrest area is hinged and easily raised for service to mower deck:
No tools are needed to lift footrest
Easy to clean grass off the top of the mower
Provides convenient access to the mower drive
Engine service
The engines are easy to service, including changing the oil and the oil filter and servicing the air filter.
Accel Deep Mower Decks have several features that make them easy to service:
Flat-top design minimizes places for debris to collect.
Spring-loaded, flip-up belt guards make removing debris easy.
Provision is provided for a standard, 3/8-in. (9.5-mm) ratchet wrench to be used for releasing belt tension when removing the drive belt.
Tie-down locations are provided for convenience and safety when trailering the machine.
Warranty
Limited bumper-to-bumper warranty for new turf and utility equipment (U.S. and Canada only):
36 months or 200 hours, whichever comes first
Easy-to-find-and-use instruments and controls
Motion-control levers
The motion-control levers can be adjusted to three different height settings and eleven different fore-aft settings:
Increased operator comfort
Adjustable for more precise control of the machine
A standard shock absorber for the motion-control levers makes maneuvering ZTrak™ Mowers easy and comfortable:
Shock absorber modulates the movement of control levers for smoother operation.
Operator can smoothly and precisely control the machine.
On-board tracking adjustment from the operator seat is quick and easy. The included 13-mm wrench is used for adjusting tracking and the motion-control lever position.
Control panel
The operator control panel is conveniently located and easy to use. The following instruments and controls are included:
Hour meter
Ignition switch
Power take-off (PTO) control
Engine speed/choke control

A choke position is built into the engine speed control (E-Series models).
A separate choke lever is used (M- and R- Series models).
Automatic Park brake
The integrated park brake is automatically applied when steering levers are stowed outward and disengaged when motion control levers are placed into operating position.
Mower deck lift/cut-height adjustment
Easily lift the mower deck using the foot lift pedal.
A cut-height preset ensures the deck returns to the correct position.
Mower deck cutting height adjusts from 1.25 to 4.5 in. (3 to 11 cm) in 0.25-in. (0.64-cm) increments for excellent cut quality and performance.
The foot-lift pedal also provides a convenient way to temporarily raise the mower deck over an obstruction while mowing.
Heavy-duty PTO clutch
A heavy-duty electric PTO clutch is controlled by a convenient, dash-mounted control. The PTO clutch is designed to operate through many on/off cycles.
Steering is easy with large front caster wheels
Motion-control levers are designed for comfortable and easy operation.

A shock absorber is included to dampen the movement of the control levers so any operator can make smooth, controlled turns.
Pneumatic caster wheels give a smoother ride and easier steering:
Large 11x6-5 front caster wheels provide extra ride comfort and better steering control.
Caster wheels have sealed bearings for long life and easy steering.
Controls are designed to promote safe operation
Motion-control levers must be in the outward position for the engine to crank.
Seat interlock switch disengages the mower when the operator leaves the seat.
Engine will stall if the operator leaves the seat without the motion-control levers in the outward position and the park brake set.
Light Emitting Diode (LED) lights
LED lighting provides additional lighting when needed.
Forward LEDs light the front of vehicle, mid LEDs illuminate the front and side of the mower deck
Standard R-Series model, optional on E- and M-Series models
E- and M-Series models include wiring to speed installation
Great appearance, reliability, and performance delivered by a heavy-duty design
ZTrak Mowers are designed around a heavy-duty formed and welded steel frame for strength and reliability. Large front caster wheels and large rear drive wheels provide several operator benefits:
Smoother ride
Better slope performance
More operator comfort over uneven ground
Better traction
The operator platform is roomy and uncluttered for maximum comfort, and the controls are convenient to use:
Easy to get on and off the mower
Ample legroom for comfortable operation
Adjustable motion-control levers for height and position, enabling the operator to stay comfortable while using them
Color-coded and logically placed controls
Styling is both functional and attractive
The styling of ZTrak Mowers is functional and attractive to appeal to residential owners who value product appearance and the easy, comfortable operation that comes with thoughtful control designs:
Color-coded controls are not only attractive, but easy to find and use.

Large foot platform, surrounded by frame rails, has a safe and inviting appearance and provides easy access for the operator.

Contoured shape of the fenders provides improved visibility to the drive tires, minimizes storage space required, and adds to the stylish appearance of the vehicle.
Heavy-duty welded steel frame for reliability and long life
The ZTrak Mower frame is constructed of heavy-duty steel tubing for long-term durability:
2.5-in. x 2-in. (6-cm x 5-cm) steel tubing in front
1.5-in. x 2-in. (4-cm x 5-cm) steel tubing on sides
Front bumper
A front bumper protects the front of the mower from damage
Standard M- and R-Series models, optional on E-Series models
Rear hitch
A rear hitch provides towing capability:
Pull a trailer up to 113 kg (250 lb.) of weight
Bolts to tubular frame for solid support
Standard on M- and R-Series models, and optional on E-Series models
Efficiency and durability from dual transmissions with large, 1-in. (2.5-cm) diameter axles
Dual transmissions efficiently power the ZTrak™ mower forward and reverse and give steering capability:
Transmissions are set low in the vehicle for excellent hillside stability.

Hydro-Gear® transmissions are reliable and durable.

Beefed-up 1-in. (2.5-cm) axles for greater strength

Maintenance-free unitized transmissions are sealed and have no hose connections to leak hydraulic fluid.
Four-bolt hubs provide a reliable and convenient wheel-mounting system.

Tow-valve controls are provided for each transmission and located above the vehicle frame on either side of the engine:
Easy to reach and use
Allow the vehicle to be moved without the engine running
Hydro-Gear is a trademark of Hydro-Gear Limited Partnership AF Holding Company, a Delaware Corporation and Danfoss Power Solutions (US) Company, a Delaware Corporation.
Easy refueling with a conveniently located fuel tank
The fuel tank holds 3 U.S. gal. (11 L) of fuel. It is located low on the left side of the machine:
Fuel-fill opening is located low and angled for easy refueling.
Large, 2-in. (5.1-cm) fuel-fill opening reduces the chance of spilling when adding fuel.
Cap is tethered to the fuel tank to prevent the fuel cap from getting misplaced.
Translucent fuel tank displays fuel level.
Help maintain your mower and lawn with the MowerPlus™ app and connector
Overview
Keep a mower running its best and know how it mows with the John Deere MowerPlus app. Simply scan the mower's barcode to get custom information about the mower.
Benefits
Engine hours, fuel level, and battery health (as compatible)
Mowing history with time, distance, area, and speed
Current day and five-day weather forecast based on location
Walk-through setup guides
Expert mowing tips
Useful attachments for future purchase
Periodic maintenance reminders
Safety instructions
To download the free MowerPlus app, visit the Apple® App Store® or Google Play™ store.
Additional details
MowerPlus connectors (sold separately)
Three MowerPlus connectors are available to transmit vehicle information to the MowerPlus app.
BUC10510 MowerPlus Hour Meter Connector is for use with:
Model year 2003 to 2020 100 Series Tractors, including all models with an E, D, LA, or L prefix
Model year 2015 to 2020 S240 Tractors (serial number -880,000)
S100, S110, S140, and S220 Tractors
BUC10929 MowerPlus Deluxe Smart Connector is for use with:
All S120, S130, S160, S170, and S180 Tractors
Model year 2021 and newer S240 Tractors (serial number 880,001-)
Model year 2021 and newer Z515E, Z530M, Z530R, and Z545R (serial number 010,001-)
BUC10537 MowerPlus Smart Connector is for use with:
Model year 2016 and newer Select Series X300 and X500 Tractors
All the MowerPlus connectors transmit engine hour information to the app, making it easy to track maintenance intervals. The MowerPlus Smart Connector and MowerPlus Deluxe Smart Connector also transmit the fuel level.
MowerPlus connectors require the MowerPlus app on a mobile device to use. The John Deere MowerPlus app and operating system requirements can be found in the mobile device's app store. The MowerPlus app is only available in the English language, and it is not available in all countries. BUC10510 MowerPlus Hour Meter Connector requires iOS® version 10 or higher and is not compatible with Android™ operating systems.
Apple and App Store are trademarks of Apple, Inc. Google Play and Android are trademarks of Google LLC. iOS is a trademark of Cisco Technology, Inc. used under license by Apple Inc.
Specs & Compare
ADD MODEL

Key Specs

Z315E
Current Model
Engine power
20 hp
14.9 kW
Engine model number
40 EXi
Forward speed
0-7 mph
0-11.3 km/h
Front caster tires
11x6-5
Drive tires
18x8.5-8
Seat back height
High back with optional armrests, 18 in.
46 cm
Width of cut
Accel Deep™ mower deck, 42 in.
107 cm
Mulching system
Optional MulchControl™ attachment
Warranty
3 year or 200 hour bumper-to bumper* (*Term limited to years or hours used, whichever comes first, and varies by model. See the LIMITED WARRANTY FOR NEW JOHN DEERE TURF AND UTILITY EQUIPMENT at JohnDeere.com or JohnDeere.ca/TUWarranty for details.)

Engine

Power
20 hp
14.9 kW
Model number
40 EXi
Displacement
40 cu in.
656 cc
Cylinders
V-twin
Lubrication
Full pressure with replaceable filter, capacity, 2 U.S. qt
1.9 L
Type
Overhead valve
Battery
12 V
300 CCA
Choke/speed control
Single lever
Cooling method
Air
Fuel tank capacity
3 U.S. gal.
11.4 L
Fuel gauge
Translucent tank

Drive train

Dual hydros
Hydro-Gear EZT-C with 1-in. (2.5-cm) axles
Hydraulic pumps
Wheel motors

Travel speed

Forward speed
0-7 mph
0-11.3 km/h
Reverse speed
0-3.5 mph
0-5.6 km/h
Speed and direction control
Twin levers
Control adjustment
3 height, 11 positions

Chassis

Frame
Heavy-duty 2.5-in. x 2-in. (6-cm x 5-cm) front, and 1.5-in. x 2-in. (4-cm x 5-cm) side tubing
Primer/paint
E-coat/powder
Front caster tires
11x6-5
Front caster bearings
Sealed ball bearings
Drive tires
18x8.5-8
Hour meter
Yes
Service interval decal
Yes
Storage compartment
Optional covered
Cup holder
Yes
Maximum towing capacity
250 lb
113 kg

Seat

Seat back height
High back with optional armrests, 18 in.
46 cm
Fore-aft adjustment
2.9 in.
7 cm
Seat suspension
Two springs

Lift system

Type
Foot lift
Mower cut height
1.25-4.5 in.
3-11 cm
Cut height increments
0.25 in.
0.64 cm
Preset cut height
Yes

Mower deck

Width of cut
Accel Deep™ mower deck, 42 in.
107 cm
Type
Side discharge
Mower deck material
12 gauge
0.105 in.
2.7 mm
Mower drive system
V-belt

PTO

Type
Electric, 105 lb-ft
142 Nm
Drive
V-belt

Dimensions

Wheelbase
49.4 in.
1255 mm
Overall length
75.4 in.
1915 mm
Width without mower
43.3 in.
1100 mm
Width with mower
50.4 in.
1280 mm
Width with mower (deflector raised for storage)
46.5 in.
1180 mm
Height
41.6 in.
1056 mm
Weight
554 lb
252 kg

Operation

Rollover protective structure (ROPS)
No
Slope operating limit
13 degrees; 10 degrees with Material Collection System
Operator presence system
Yes
Park brake interlock
Yes
Operator video
Yes, online

Buyer's notes

Note 1
Durable Accel Deep Mower Decks are made from 12-gauge steel with double captured mower wheels
Note 2
Easily change cut height from 1.25 to 4.5 in. (3 to 11 cm) using the foot lift and cutting height dial
Note 3
Integrated park brake is automatically applied when steering levers are stowed outward
Warranty
3 year or 200 hour bumper-to bumper* (*Term limited to years or hours used, whichever comes first, and varies by model. See the LIMITED WARRANTY FOR NEW JOHN DEERE TURF AND UTILITY EQUIPMENT at JohnDeere.com or JohnDeere.ca/TUWarranty for details.)

Optional attachments

Mulching system
Optional MulchControl™ attachment
Rubber floor mat
Optional
Sun shade
Optional
Mounted sprayer
Not available
Storage cover
Optional
Light kit
Optional
Material collection system
Two-bag cut-and-throw MCS, 6.5 bu
229 L

Additional information

Manufacturing location
Greeneville, Tennessee, USA
Date collected
3-Oct-22
WE'RE HERE TO HELP.
CHECK

our videos below. Looking for something else?

DROP

us a line for all inquiries. >>>