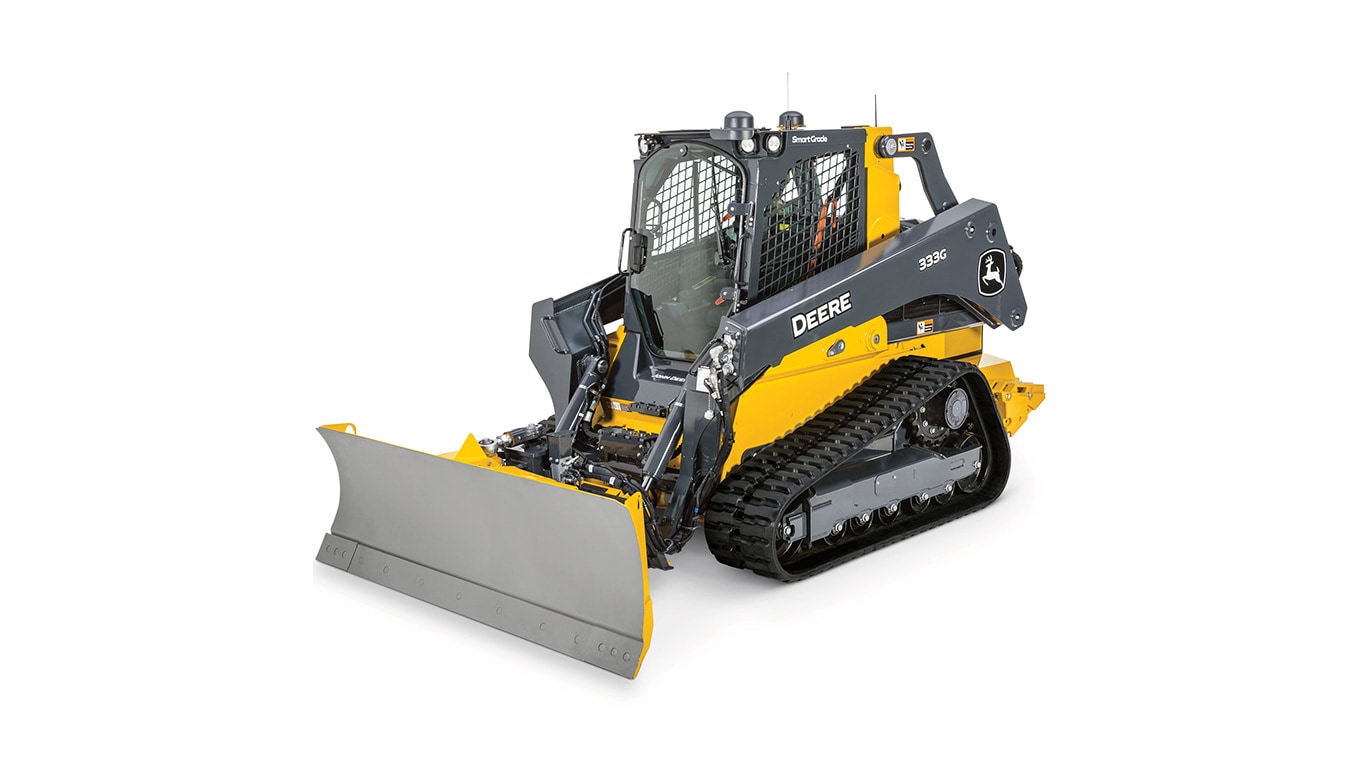 John Deere 333G
Compact Track Loader
---
Gross Power: 74.6 kW (100 hp)
Net Power: 72.0 kW (96.6 hp)
Rated Operating Capacity: 1 680 kg (3,700 lb.)
Operating Weight: 5 493 kg (12,100 lb.)
---
---
Compare to Competitors
John Deere 333G
Compact Track Loader
Gross Power: 74.6 kW (100 hp)
Net Power: 72.0 kW (96.6 hp)
Rated Operating Capacity: 1 680 kg (3,700 lb.)
Operating Weight: 5 493 kg (12,100 lb.)
Starting At:
$117,518.00
Compare to Competitors
Features
Achieve superior accuracy and efficiency with grade control offerings
The 333G Compact Track Loader (CTL) can be outfitted with a range of grade control solutions from 2D Laser Slope Control, SmartGrade™ Ready with Slope Control, and the industry's first fully integrated 3D grade control solution available on a compact track loader, SmartGrade™ All these solutions provide an overall, more efficient manner of cutting and spreading material to get to grade the first time and avoid rework, even in tight areas.

2D Laser Slope Control provides a cost effective and precise solution for grading flat pads and simple slopes both in outdoor and indoor settings. Receivers on the blade detect a plane provided by an offboard base station and signal the machine controllers to raise, lower, or pitch the blade automatically to cut the final target grade.

SmartGrade™ Ready with Slope Control is an entry level grade control system on the 333G CTL that assists operators in grading smooth planar surfaces by automating the blade using machine position or operator desired mainfall and/or crossfall slopes to automate raising, lowering, and tilting of the blade.

SmartGrade™ is a solution that integrates precision 3D grade control technology, from the factory, that takes the guess work out of finish grading on jobsites with 3D models with complex slopes and cut/fill requirements.

Regardless of which option is selected, all three solutions come with standard features that provide the 333G with a unique advantage no matter the jobsite.
The John Deere designed and built 6-way dozer blade attachment is robust enough to cut rough grade but also smooth enough to do precision fine grading and is included in both SmartGrade™ and Slope Control offerings.
With just the push of a button on the sealed switch module (SSM), DozerMode can be enabled to allow the machine controls to function like those on a crawler dozer.
EZ Grade software stabilizes the blade for smoother grading while operating manually.
Increase your machine's versatility with John Deere's wide array of attachment offerings
With over 100 attachments offered in the John Deere portfolio you can make the most out of your skid steer by equipping it with a number of popular attachments.
Increased auxiliary hydraulic flows and power over previous models enable greater performance while running attachments and optional high-flow hydraulics lets operators add things like snow blowers, rotary cutters, or brooms
Internally mounted auxiliary couplers and CORDURA® fabric sleeves mean that couplers and hoses are better protected from damage
Optional electrically actuated Quik-Tatch™ enables some attachment connecting to take place within the cab reducing the need for exiting and re-entering the cab to manually connect attachments.
Creep control (offered within the Joystick Performance Package) allows operators to perform precise tasks that require full hydraulic flow and power while running at lower travel speeds
For additional information on attachments and compatibility, check out the John Deere attachments guide.
CORDURA is a trademark of INVISTA North America, LLC.
Enjoy all day comfort with the spacious and ergonomically friendly cab
The spacious and pressurized cab means operators can stay fresh throughout the entire workday through designs that minimize noise levels and keep water and dust out. Switchable controls allow an operator to choose the pattern they prefer [International Organization for Standardization (ISO), H-pattern, foot controls, or ISO plus foot controls] meaning they can get to work quicker and easier.
The ergonomic design includes a larger and continuous footwell to allow for extra room and repositioning of the operator's feet to maximize comfort
Controls are in operator-friendly locations that allow for repetitive movements to take place easier meaning that operators will not tire out as quick throughout the day
Multiple slip-resistant steps and six handles mounted on the interior and exterior of the machine result in a safer and more natural way to get in and out of the cab
Expertly designed heating, ventilation, and air conditioning (HVAC) system with vents spaced along the side, bottom, and rear of the cab allow for work to take place in any season and keeps the operator comfortable with strategically placed vents.
Maximize productivity with the electro-hydraulic (EH) boom performance package
A: EH Self-Level (up and down)
B: EH Self-Level (up only)
C: Return to Carry (RTC)
D: Return to Dig (RTD)
E: Boom Height Kickout (BHKO)
The optional factory-installed EH boom performance package offers increased productivity through shorter cycle times for applications where repetitive boom functions are common by automating these functions and setting them to match operator preference from inside the cab.
RTD allows the operator to automatically set the bucket or other attachment to their designated ready-to-work position RTC allows the operator to use the joystick detents to automatically reset the boom to a designated ready-to-carry position
BHKO allows the operator to pre-select a specific boom height based on truck/hopper height and use joystick detents to automatically stop at a specific height
Electronic Self-Level (ESL) allows the Self-Level to work during boom up and down, unlike the hydraulic Self-Level option that works only on boom up
Productivity enhancements that benefit every job
Compact Track Loaders (CTL's) have enhanced features that result in higher productivity in applications like V-pattern truck loading, bale handling, and grading when compared to the competition.
Increased bucket breakout forces result in better handling of pallets of pavers or other heavy materials in addition to helping heap the bucket with larger loads.
Anti-stall feature monitors engine load to quickly prevent the engine from stalling allowing the operator to use the maximum horsepower efficiently when pushing large amounts of material
Differential steering allows the operator to maintain speed and traction when pushing through a turn
Standard two-speed drivetrain delivers travel speeds up to 12.9 km/h (8 mph) that allow operators to get from one side of the job to the other much quicker
Ease of serviceability allows you to spend more time completing the tasks at hand
Enhanced serviceability features and ease of access to daily and preventative maintenance points ensures that these tasks do not significantly cut into working hours
The hood tilts up for ground level access to the dipstick, fuel and fluid filler necks, filters, and see-through reservoirs
The cab can swing up and out of the way in less than five minutes for wide-open drivetrain access. A single person can safely and efficiently lift the boom and lock it out, exit the machine, raise the cab, and remove the footwell.
Removable metal side panels on the left and rear are lightweight and perforated with handles at optimized lifting points.
The removal of the footwell with just six total nuts and bolts allows for easy cleaning of dirt and debris that enters the cab.
Excellent visibility for increased situational and jobsite awareness
Enhanced visibility features enable the operator to view the jobsite to be as precise and productive as possible while also increasing jobsite awareness.
Optional deluxe LED lighting provides increased visibility early in the morning or at night over the standard halogen package.
Clear sight from the seat under the boom arms to see the tires, even when the boom is down and great visibility to the cutting edges and Quik-Tatch™ lock and unlock indicators.
Rear view camera, low-sloped hood and a high cross-tube on the upper-linkage result in unmatched rear visibility.
Specs & Compare
ADD MODEL

DESCRIPTION

333G
Current Model

DRIVELINE

Engine Manufacturer
Yanmar
Engine Model
4TNV94FHT
Emission Rating
EPA Tier 4 / EU Stage IV
Aspiration
Turbo. Intercooled
Displacement, ltr (Inches³)
3.1 (186.3)
Rated Speed, rpm
2500
Engine Output - Net, kW (hp)
72 (96.6)
Engine Output - Gross, kW (hp)
74.6 (100)
Torque, Nm (lbf / ft)
395 (291.3)
Track Shoe Width, mm (inches)
450 (17.7)

DIMENSIONS

Length - No Bucket, mm (inches)
3100 (122)
Length - Foundry Bucket, mm (inches)
3710 (146)
Width - No Bucket, mm (inches)
2050 (80.7)
Height - Top Of Cab, mm (inches)
2200 (86.7)
Ground Clearance, mm (inches)
240 (9.4)
Rear Departure Angle, Degrees
31
Height to Hinge Pin, mm (inches)
3350 (132)
Dump Angle, Degrees
48
Dump Height - Maximum Foundry, mm (inches)
2690 (106.1)
Rollback - Ground Level, Degrees
35

CAPACITIES

PERFORMANCE

Rated Operating Capacity - Foundry, kg (lbs)
1680 (3700)
Tipping Load - Foundry, kg (lbs)
4799 (10570)
Ground Bearing Pressure - Foundry, kPa (PSI)
34.1 (5)
Speed - Maximum, kph (mph)
12.6 (7.8)
Breakout - Lift Foundry, kN (lbf)
36.6 (8250)
Breakout - Bucket Foundry, kN (lbf)
61.1 (13750)
Hydraulic Power, kW (hp)
37.29 (50)
Hydraulic Power - Option, kW (hp)
61.234 (82.1)
Pump Flow, lt/min (gallons (US) / min)
95 (25)
Pump Flow - Option, lt/min (gallons (US) / min)
156 (41.1)
System Pressure, bar (PSI)
237.87 (3450)

WEIGHTS
WE'RE HERE TO HELP.
CHECK

our videos below. Looking for something else?

DROP

us a line for all inquiries. >>>